MetaTrader 5 (MT5) is a trading platform for various products, including forex, stocks and futures. Contracts for Difference (CFDs) are also available for a wide range of underlying, including indices and commodities.
The MetaTrader 5 platform is chiefly aimed at speculative trading and has become very popular among retail day traders online. It was created by MetaQuotes, the company behind the famous MetaTrader 4 (MT4).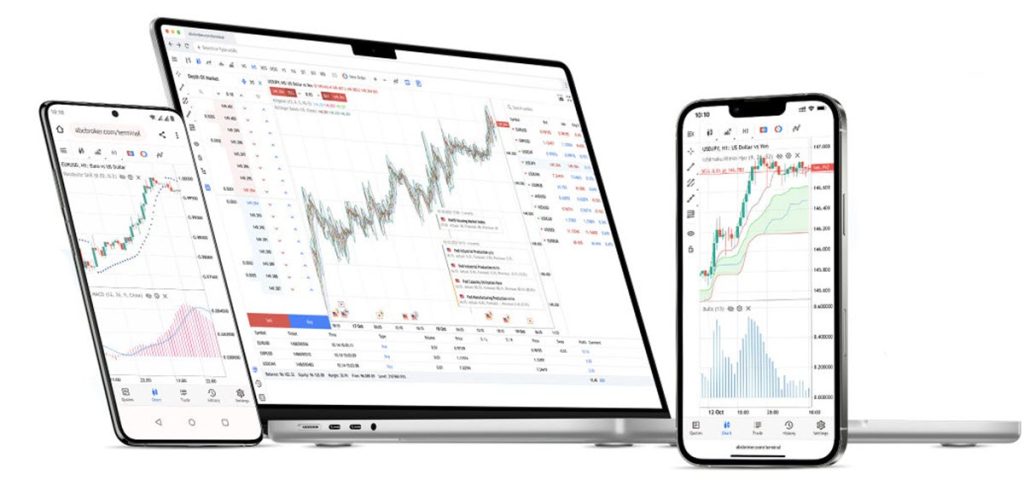 You will need a broker to use the MT5
MetaTrader 5 is a trading platform and not a broker. It is utilized by a wide range of different brokers, and you will need to sing-up with an MT5 compatible broker before you can do any real-money trading at the MetaTrader 5 platform.
Just as with the MT4, you can download and use the MT5 without paying any platform fee or similar to MetaQuotes. You will be paying commissions and fees to your broker, and exactly what that will entail depends on which broker and broker account you select.
Chose a broker wisely, because even though the platform is the same, aspects such as spreads, commissions, fees, leverage, and rules concerning deposits and withdrawals will be different depending on which broker you have an account with. Also keep in mind that different brokers are based in different countries and regulated by different authorities.
Devices and system requirements
MetaTrader 5 is available for download to a computer, but you can also trade directly in your browser window using the MT5 WebTrader.
If you wish to install the downloadable MT5 on your computer, go directly to MetaQuotes or use the link provided by your broker.
If you wish to trade on a touch-screen mobile device, such as a smartphone, it is better to download the mobile app than using the browser window. MT5 mobile apps are available for both iOS and Android.
Can I use MT5 on Chromebook?
You can do your trading directly in your browser window using the MT5 WebTrader.
Can I use the downloaded version of MT5 with Windows 7?
Yes, it works with Windows 7 and Windows 8, but Windows 10 or later is preferred. Windows XP and Vista does not support the downloaded version of MT5.
Can I use the downloaded version of MT5 on an Apple computer?
The downloadable MT5 was developed for PCs running Windows, but it can work with Apple computers running Mac OS if you combine it with a software such as Wine or Parallel. However, users report that since the iOS Catalina update, getting it to work smoothly has become more difficult, and many Mac users are instead opting to trade directly in the browser window using the MT5 WebTrader.
Can I do copy trading on the MT5?
Yes you can. Go to Help and click Signals to find a selection of copy trading signals.
MT4 and MT5 – differences and similarities
Focus
The MT4 is largely (but not solely) focused on forex trading. The MT5 was developed to offer a broader range of assets for trading.
It is not unusual for traders to use both the MT4 and the MT5 – the MT4 for their forex trading and the MT5 for other types of trading. Many brokers will give you access to both platforms.
Interface
The dashboard and general outline of the MT5 is fairly similar to that of the MT4, so if you have previous MT4 experience it should not be difficult for you to quickly feel comfortable with the MT5.
MetaQuotes has kept the keyboard shortcuts (hotkeys) the same, which is a big plus if you use a lot of hotkeys during your sessions.
At the MT5, it is possible to enable One-Click Trading.
Assets etc
As mentioned above, the MT4 was largely (but not solely) focused on forex trading. With the MT5, the developer sought to create a platform more suitable for speculating on a variety of asset types, instruments and financial products. With the MT5, you can for instance trade not only forex and options, but also CFDs based on stock prices, commodity prices, cryptocurrency prices, and indices such as the S&P 500, DJI and Dax 30.
Exactly what you will get access to will vary somewhat depending on which broker you select.
Please note: You can not actually purchase and become the registered owner of company shares through the MT5 platform. You can buy stock-options, but not the actual stocks.
Pending orders
MT4 has four pending orders and MT5 has six pending orders.
Unlike the MT4 platform, the MT5 comes with buy stop limit and sell stop limit for pending orders.
Market depth
With certain brokers, Level 2 Pricing (market depth) is available at the MT5 platform.
Technical analysis
While the MT4 offers only 9 default time frames for technical analysis, the MT5 comes with 21.
The MT4 has 30 built-in indicators and the MT5 has 38.
A higher level of customisation is possible with the MT5. You can for instance switch your graphs form light mode to dark mode, modify chart types and colours, and more. If you go to \MQL5\Profiles\Templates you will find addable templates which can be used to customize charts and add technical indicators, day separators, graphical objects, etcetera.
With the MT5, custom indicators and data points can be added using Java, Python or MLQ5 gateway APIs. Examples of popular custom indicators are Renko, ZigZag, B-clock and Pivot Points.
Automated trading
Automated trading using Expert Advisors (EAs) is possible on both the MT4 and the MT5.
History centre for backtesting
There is no history centre for backtesting within the MT5 platform, so you will need to download the strategy tester to run backtesting on your strategies.
MT5 Demo Account
Many of the brokers who offer trading on the MT5 platform will let you register a demo account with them for free. This demo account will be filled with play-money and you can use it to test out the broker and the MT5 platform without risking any real money. It is a great way to learn about the MT5 platform, explore the tools and get a general feel for the broker and the platform without making any real-money deposit.